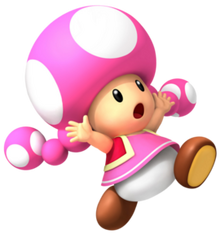 Historia
Edit
Toadette es un personaje que apareció por primera vez en Mario Kart: Double Dash como la versión femenina de Toad y compañera de carreras en el juego, a lo largo de la serie su aparición ha sido muy poco variada y aparece más en juegos estilo deportivos como es la serie Mario Kart o la serie Mario Party. Como cualquier Toad cuenta con piel de color normal, cuenta con su cabeza en el cual lleva un Champiñón como cualquier Toad pero en color rosado y manchas blancas y con dos trenzas de los mismos colores. También cuenta con una camisa de color rosado y las partes del brazo en rojo. Es compositora y posee un conservatorio. Aunque su relación no se a confirmado todavia el 50% de la gente dice que son hermanos y el otro 50% dicen que son novios.
Ad blocker interference detected!
Wikia is a free-to-use site that makes money from advertising. We have a modified experience for viewers using ad blockers

Wikia is not accessible if you've made further modifications. Remove the custom ad blocker rule(s) and the page will load as expected.