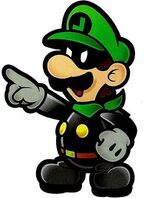 Historia
Edit
Sr. L/Mr. L (conocido también como el Bandolero Verde) es el Alter Ego de Luigi en el juego Super Paper Mario, éste desconocía su "identidad secreta" hasta el capítulo final del juego, a comparación con Luigi éste trabaja para el mal, siendo el sirviente de Dimentio, junto con su hermano "Fratibot" un robot con la forma de su cabeza. Su intención era destruir a Mario, a Peach, a Bowser y a Pisti para que no interrumpieran el plan de Dimencio para derrocar al Conde Cenizo y destruir todo el universo, pero éste falló en su tarea y posteriormente Dimentio lo inutilizó entregándoselo a Mario hasta el capítulo final en el que es transformado. También sale en Brawl como su última aparición, como un sticker y también como un trofeo.  
Ad blocker interference detected!
Wikia is a free-to-use site that makes money from advertising. We have a modified experience for viewers using ad blockers

Wikia is not accessible if you've made further modifications. Remove the custom ad blocker rule(s) and the page will load as expected.