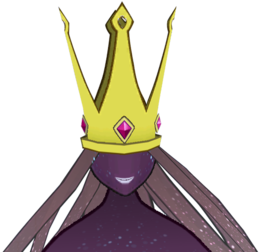 Historia
Edit
La Reina de las Sombras es un demonio que ocasiono el pánico cuando reinaba, destruyo un pueblo donde ahora es Villa Viciosa. Por sus tremendas crueldades la reina fue encerrada en la puerta milenaria. Tiempo despues Xénon liberó a la reina para dominar el mundo. La reina posuvo a la Princesa Peach  y se convirtio en ella con un vestido negro, en el juego tambien se la conce como (Peach de las Sombras) la personalidad contraria a la de la Princesa Peach .
Sus ataques son siempre de sombras tenebrosas o de rayos oscuros, tienes que enfrentarte a la Shadow Peach y a la verdadera forma de la Reina de las Sombras.
Ad blocker interference detected!
Wikia is a free-to-use site that makes money from advertising. We have a modified experience for viewers using ad blockers

Wikia is not accessible if you've made further modifications. Remove the custom ad blocker rule(s) and the page will load as expected.