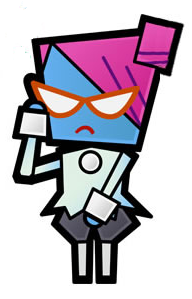 Historia
Edit
Si alguien va a Villacruz y escucha a alguien en The Overthere, te contará una historia llamada "Of Bats and Men". La historia trata sobre un hombre buscando una mujer que amó que está perdida. Cuando la está buscando, encuentra un murciélago en una trampa y lo libera. Después en la noche, cuando el hombre está durmiendo el murciélago se transforma en una mujer que le ofrece lealtad para toda la vida (sin estar enamora. Tiene la cabeza cuadrada y su piel de color azul, el pelo lo tiene rosado, usa lentes de marcos naranjos, usa un vestido de color plomo, pantalones grises y botas blancas.
Ad blocker interference detected!
Wikia is a free-to-use site that makes money from advertising. We have a modified experience for viewers using ad blockers

Wikia is not accessible if you've made further modifications. Remove the custom ad blocker rule(s) and the page will load as expected.