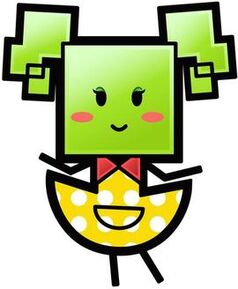 Historia.
Edit
De acuerdo con el internado, el tema de Mimi se llama "Mimi la Copycat" y su tema de batalla "no soy bonito". Su verdadera forma es la de una araña robot de aspecto maligno, visto durante la mayor parte de las batallas contra ella. Siempre que Mimi se encuentra en su verdadera forma, su caja de diálogo se encuentra en una sombra de color púrpura con color de texto blanco, similar a la Reina de las sombras y Zombaba. Posee la habilidad de cambiar de forma, a menudo tomando los disfraces de Merlí y otros personajes. Ella tiene un temperamento violento y cruel y utiliza su aparición como chica linda e inocente para atraer a los viajeros a convertirse en esclavos.
Ad blocker interference detected!
Wikia is a free-to-use site that makes money from advertising. We have a modified experience for viewers using ad blockers

Wikia is not accessible if you've made further modifications. Remove the custom ad blocker rule(s) and the page will load as expected.