Bebé Mario y su hermano, Bebé Luigi, estaban volando al Reino Champiñón gracias a la Cigüeña. Sin embargo, Kamek, temiendo que los Niños Estrella arruinarían los planes de la Tropa Koopa, atacó a la Cigüeña y logró secuestrar a Luigi, pero dejó a Mario cayendo hacia la Isla de Yoshi en los eventos de Super Mario World 2: Yoshi's Island. Por casualidad, Yoshi estaba caminando por debajo y suavizó la caída de Mario. Confundido a la presencia del bebé, Yoshi consultando con sus amigos, elaboró un plan de caminata a través de la isla en un esfuerzo para que Mario regresara con sus padres.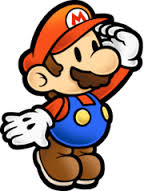 Ad blocker interference detected!
Wikia is a free-to-use site that makes money from advertising. We have a modified experience for viewers using ad blockers

Wikia is not accessible if you've made further modifications. Remove the custom ad blocker rule(s) and the page will load as expected.