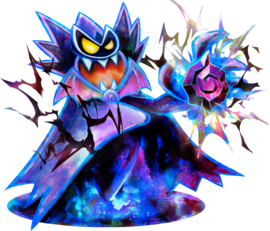 Historia
Edit
El Conde Pesadillo, (Antasma en inglés), es el antagonista principal de Mario & Luigi: Dream Team Bros.. Es un espectro originado en una tremenda pesadilla de los Almohada del pasado, que fue encerrado en el Mundo de los Sueños por robar la Piedra de las Pesadillas y es el fantasmagórico rey murciélago de las pesadillas.
Aparece varias veces como jefe, es el primer jefe del juego en forma de tutorial, también es el quinto jefe junto con Bowser y el penúltimo jefe a vencer en todo el juego. Por último también es el jefe final del Cuadrilátero de combates en su versión X. Odia al Conde Monte Olimpo.
Ad blocker interference detected!
Wikia is a free-to-use site that makes money from advertising. We have a modified experience for viewers using ad blockers

Wikia is not accessible if you've made further modifications. Remove the custom ad blocker rule(s) and the page will load as expected.