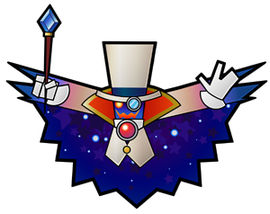 Historia
Edit
Cenizo los lleva a su dimensión a todos, menos a Mario, para llevar a cabo este plan. Para contrarrestar el destino del mundo, fijado por el libro anterior, existe otro libro, el Pronósticus Clárum, que relata que cuatro héroes (Mario, Peach, Bowser y Luigi) deberán detener al malvado. Como resultado, Cenizo comenzó a odiar a todos y a planear la destrucción de los mundos, para que todos supiesen el sufrimiento por el que pasaba al enterarse de que Pisti había muerto.
Mientras, Pistina sigue viva, pero ha perdido la memoria y se ha convertido en Pisti, el mismo pixelito que acompaña a Mario y los demás.
Ad blocker interference detected!
Wikia is a free-to-use site that makes money from advertising. We have a modified experience for viewers using ad blockers

Wikia is not accessible if you've made further modifications. Remove the custom ad blocker rule(s) and the page will load as expected.