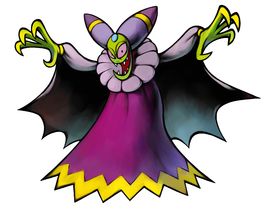 Historia
Edit
Ya desde el principio del juego, la Bruja Jijí siempre estuvo acompañado de su esbirro, Grácovitz (Fawful). Su plan consistía en robar la Judía Estelar para hacer que cumpliera sus deseos. Pero la Judía Estelar mantenía un sueño perpetuo. Únicamente podía ser despertada con una voz cálida, amable y de una persona cariñosa. Para la desgracia del Reino Champiñón, la única persona del mundo que porta esta voz es la Princesa Peach. Tras haberlo hecho, tenía planeado conquistar el Reino Judía y, más adelante, el Reino Champiñón. Mientras los hermanos Mario y Luigi viajaban con Bowser en su Turbokoopa ella envía su Esbirro Jijí a atacarles.
Cuando los hermanos llegan, hay una estampida de alumnos de la academia huyendo de algo o alguien en su interior. Huyen de la hechicera, quien ha destruido la academia. Tiempo después, la bruja ejecuta a los robots de Peach pero algo sale mal. La Judía Estelar se encoleriza y destruye el suelo donde levitaba. Los hermanos hacen su aparición y la bruja no tiene más remedio que combatir contra ellos.
Ad blocker interference detected!
Wikia is a free-to-use site that makes money from advertising. We have a modified experience for viewers using ad blockers

Wikia is not accessible if you've made further modifications. Remove the custom ad blocker rule(s) and the page will load as expected.