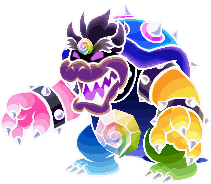 Historia
Edit
Bowser lanza bolas de fuego hacia Mario y Luigi. Bowser lanza una chapa para saber a quien le lanza un martillazo, tienes que devolverle el golpe con el martillo y luego darle con el otro personaje.
Con el brazo izquierdo coge a Mario o a Luigi y lo lanza. Tienes que intentar coger al personaje. Bowser trae un helibote y tienes que evitar los golpes y darle martillazos y luego si no la destruyes te lanza bolas de cañon que tienes que devolver.
Bowser trae a las versiones soñadoras de sus esbirros y los manda al ataque mientras recupera VIDA.
Bowser te persigue y tienes que evitar sus llamaradas y ondas expansivas.
Como principal antagonista de Mario que es, Bowser ha dado apariciones en la gran mayoría de juegos de Mario. Principalmente en los juegos plataforma y aventura. Pero también cuenta con apariciones en juegos deportivos de Mario. Bowser es un villano de una maldad pura, cruel y despiadado, Bowser es un tirano al que no le importan sus enemigos ni sus propios seguidores (excepto sus hijo; Bowsy y sus esbirros los Koopalings). Una de sus mayores cualidades es su insaciable sed de poder y conquista. Bowser piensa de todo en términos de poder y siempre está buscando formas de extender su dominio sobre el mundo. Pese a todo eso en algunas ocasiones se ha llegado a ver un lado más humano de Bowser tratando con amabilidad a su tropa y aunque siempre intente ocultarlo bajo una personalidad bestial y destructiva, se siente muy agradecido y orgulloso por la fidelidad y el esfuerzo de su tropa. Incluso en algunas ocasiones ha llegado ha hablar cordialmente de sus enemigos.
Ad blocker interference detected!
Wikia is a free-to-use site that makes money from advertising. We have a modified experience for viewers using ad blockers

Wikia is not accessible if you've made further modifications. Remove the custom ad blocker rule(s) and the page will load as expected.