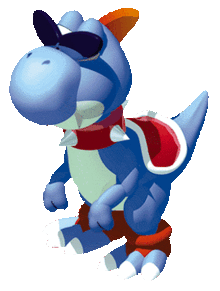 Historia
Edit
Boshi es un Yoshi de color azul, es rival de Yoshi. Boshi es un solitario. Él y los Yoshis viven en Yoshi's Island, sede de la famosa seta Derby carreras. Un fatídico día, Boshi derrota a todos los Yoshis en una carrera y se convierte en el campeón del Derby de hongos. Boshi luego se declara el jefe de los Yoshis. Bajo su reinado, las carreras de la isla se cancelan. De hecho, el único autorizado a utilizar la pista de carreras es Boshi. Aunque a los otros Yoshis no le gustaba la regla de Boshi, se sintieron obligados a obedecer al campeón del derby. Boshi le gusta llevar gafas de sol y un collar de pinchos alrededor de su cuello y estar junto a un arbol, sólo ha aparecido en Super Mario RPG: Legend of the Seven Stars. Durante el final del juego, cuando Croco pierde a Yoshi, Boshi cumple Croco y le da consuelo, ya que no habian sido invitados a las celebraciones.
En Japonés su nombre es Washi, tal vez una referencia a los "Wa" (Wario, Waluigi).
Talvez tenga algun tipo de rivalidad con yoshi.